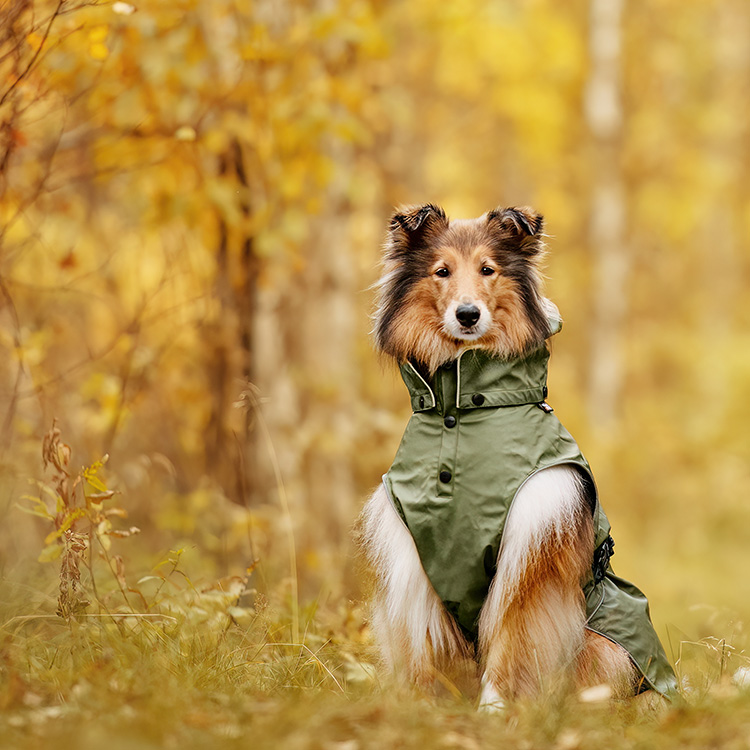 Quality clothing for your pet
Just like their owner's clothing, dog clothes need to be durable and look good. Humans can choose their clothes from various models and styles, so why should their pets have to settle for anything less? Luckily the features and quality of
Rukka Pets dog garments
do not pale in comparison to human clothes and apparel. Water- and windproof jackets help keep your dog's fur dry in bleak weather while soft hoodies feel warm during chilly evenings.
Why do dogs need clothes?
It is important to protect your furry friend from fluctuating temperatures and changing weather conditions. Dog clothes are an essential addition to your pet's apparel:
High-quality dog clothes keep your dog warm, whether you are out exploring the neighborhood or waiting for your turn in the agility track.

Waterproof dog clothes protect the fur from mud, which makes taking care of your dog so much easier. Your home also stays cleaner, when your pet doesn't bring all the mud and dirt inside.

Your dog is easier to spot in the dark if it is wearing clothes with reflective details – this way other joggers and drivers can see the dog during your nightly strolls. In addition to being water- and windproof, the Rukka Pets Flash Overall jacket has luminous patterns that are easy to spot in the dark.
Always choose warm and protective clothing for your dog according to its breed. Dogs with thick fur and undercoat are better protected against the cold than single-coat dogs.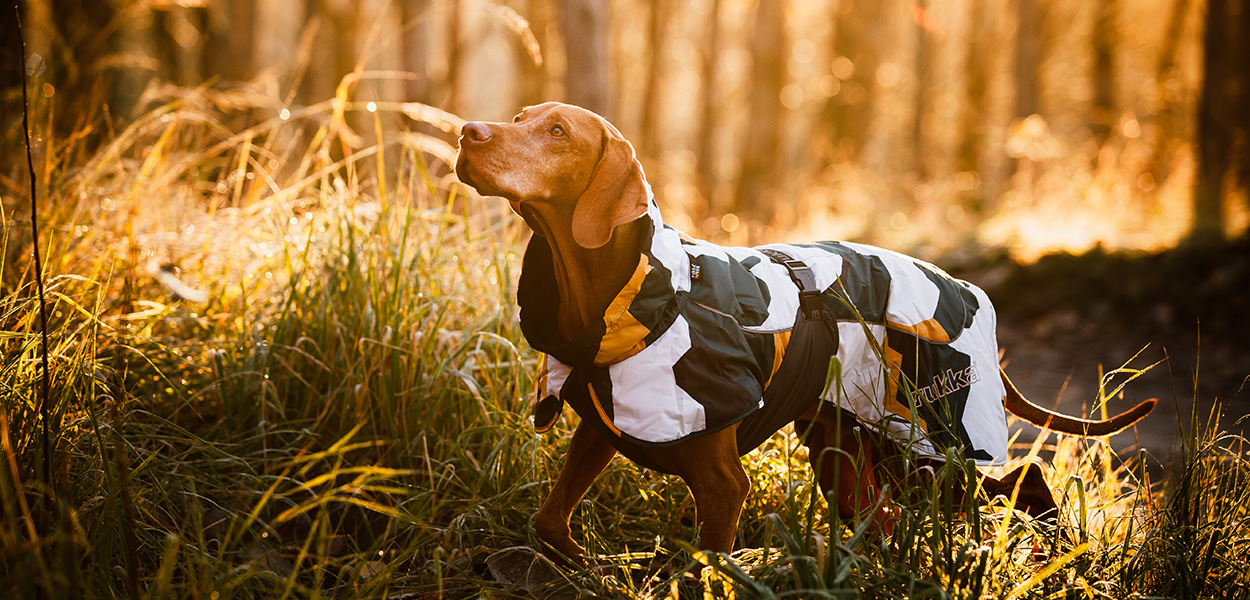 Jackets for dogs
Dogs' jackets are a perfect choice for active pets. A good jacket leaves enough room for your dog's feet so that its movements are not restricted when running or playing with other dogs. Dogs' jackets keep important muscle groups and the neck warm while the soft lining feels comfortable against the skin.
The Rukka Pets selection of dog clothes has many models with handy quick buckles, which make the jacket easy to put on. The jackets are great protective gear against the cold during practice sessions and daily walks, because they are easy and fast to put on. The material and high quality of Rukka Pets jackets ensure that they do not give out even in demanding use, just like our clothes for pet owners.
Raincoats for dogs
On rainy days, choose a water- and windproof jacket for your dog. A dog's raincoat keeps your pet feeling comfy even if the weather is bleak and rainy. The detachable hood offers additional protection when the rain gets heavier. A
dog's raincoat
also prevents skin problems, such as hotspots and rashes, which can be caused by wet fur.
Knits and hoodies for dogs
A comfy hoodie or a fashionable knit for dogs is the right choice, when your pet needs something warm, but there's no need for water- and windproof features.
4 tips for choosing clothes for your pet
When choosing clothes for your dog, consider the season, your pet's breed, and the clothing's purpose. Your dog may not shiver from the cold but could still feel chilly. If your dog feels cold, it may, for example, lift its paws, shake its head, arch its back, or walk with short steps. Here are four tips for choosing clothes that protect your dog from the cold:
Your dog needs to go outside in every weather – even through the winter's freezing temperatures, rain, and wind. Warm, water- and windproof dog clothes are just the right choice for such conditions.
Well-fitted clothes allow your dog to move freely. When choosing clothes for your pet, the length of the back, and waist circumference are the most important measurements to consider. Read more from our
sizing and measuring guide
for dogs.
Dog breeds without an undercoat need warm clothes as soon as the weather gets chilly. Dog breeds that spend most of their time indoors don't have thick undercoats, while breeds that spend hours outdoors every day have thicker fur and endure the cold better.
Sticks and dirt get caught in longer fur easily. Your pet gets to spend time outside freely when the dog's fur is protected with clothing, especially if the ground is muddy and wet.
Order Rukka Pets dog clothes online and enjoy the outdoors with your dog, no matter the weather.