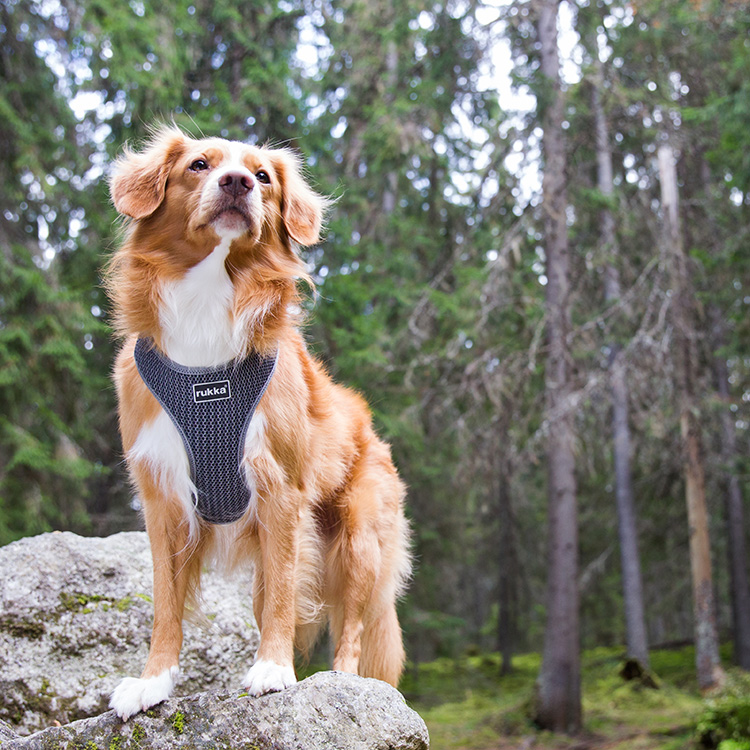 Collars, Leashes, and Harnesses for Dogs
Choose the right gear for your furry friend to make outdoor walks more enjoyable. A fitting harness, collar, and leash make sure that your pet can run freely and sniff around. With the right gear, the dog is also easy to keep in control.
Rukka Pets dog harnesses
, collars, and leashes are of high quality, durable, and comfortable for the dog.
How to choose a dog leash that fits?
Is tracking you and your dog's mutual hobby? Or do you mostly walk in the busy city streets? Is your dog a big and strong retriever or a small and lightweight terrier? Choosing a dog leash depends on the size of your dog and the most common use for the leash. Keep these things in mind when selecting a leash for a dog:

Choose a shorter leash for walks around busy streets with lots of traffic. This way your dog is easier to control and stop from getting into potentially dangerous situations.
Rukka Pets dog leashes are made of light and durable materials. The leashes can be washed with water, making them easy to clean. Some of the leashes come with a rubber coating that feels good in your hand and provides a good grip even when the weather is wet.
Large-sized pets need a sturdier leash that can support the dog's weight. If the leash is too heavy, it can feel uncomfortable on a small dog and cause pressure on the neck. Therefore, choose a lighter leash for tinier pups. The pulling strength of Rukka Pets leashes has been tested several times, so that they do not break despite the weight of the leash.
Different
Rukka Pets leashes
allow you to easily adjust the leash's length. You can even add a handy extension to some of the leashes. Choose a longer leash to practice tracking and nose work with your dog. With a longer leash, your dog gets to move around more freely and gets more from the exercise.
Some Rukka Pets leashes come with reflective details so that your pet is easy to see by others in traffic – even when it is dark outside.
Choose the
Rukka Pets multipurpose leash
when heading outside with two dogs. You can adjust the multipurpose leash when necessary, whether you are training your dogs or walking in heavy traffic.
Should you choose a harness or a collar for your dog?
A good dog collar does not cause uncomfortable pressure on your doggo's neck. The right collar should be easy to fasten or put on the dog's neck over its head. The inner lining of Rukka Pets collars comes with padding that feels comfortable against your dog's neck. This is especially important if your dog has short fur. Moreover, keep these things in mind when choosing a dog collar:

A good dog collar should be wide enough.A wide collar feels good on your dog and does not press between the vertebrae on your dog's neck.

Adjust the collar to fit your dog's neck.The collar's adjustments are right when there is enough room for a couple of your fingers between the collar and the dog's fur. Test if you can hold the collar with your fingers easily.

The lighter, the better. Choose a light dog collar with the size of your pet in mind. Rukka Pets offers stylish collars in different colors.
Harnesses distribute the weight of a pull evenly across the dog's chest, instead of its neck. A harness of the right size does not cause discomfort even during long walks and fits nicely both on large and small dogs. The harness also cushions the dog's sudden movements.
So which one is better for your dog, a harness or a collar? As a rule of thumb, harnesses are better for long walks and active movement, while a well-fitting collar is a great choice for easy walks.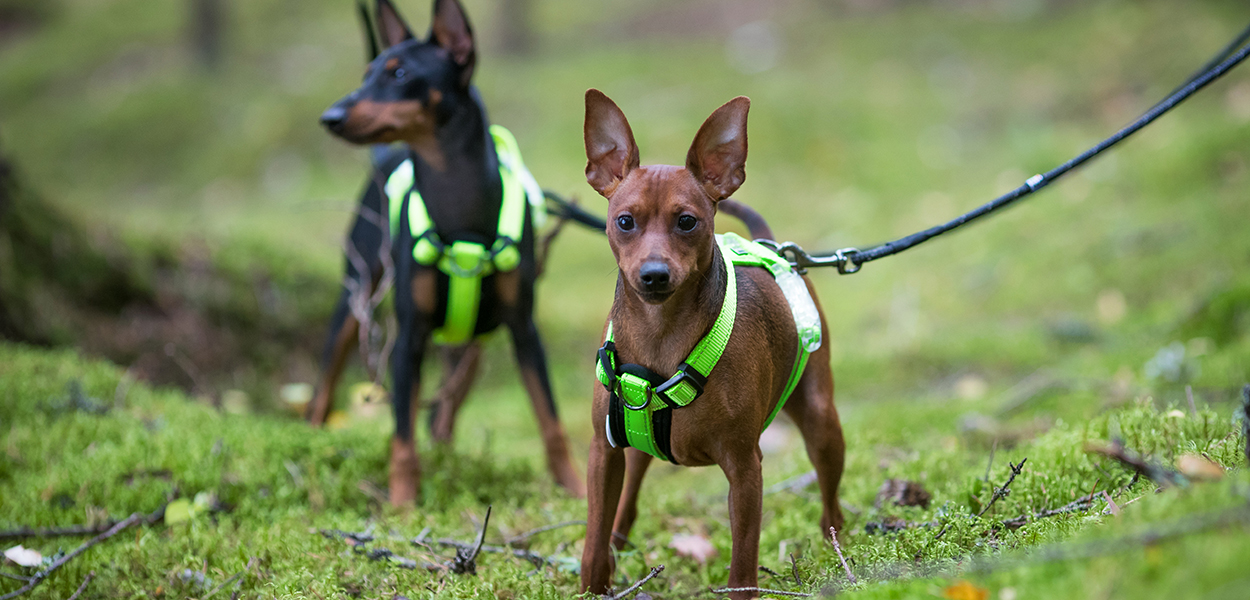 Harnesses for big and small dogs
The size of a dog's harness is just right when it does not move up from the dog's neck and does not feel too tight in its armpits. Also, the harness should not press against the dog's chest. A harness with cushioning makes your dog feel most comfortable.
Especially pet owners with small dogs should choose the lightest harness possible. A lighter harness does not put additional weight on the dog's chest and the dog has an easier time moving. If your dog is big and strong, consider getting a harness with a handle in the back. It might come in handy if you get into challenging situations with your dog.
You can find Rukka Pets harnesses with reflective details for big and small dogs. A reflective harness makes it safer to go out walking in the dark.
Walking with your dog
Walking on a leash is a part of every puppy's basic training and should be practiced when your dog is still young. Here are three tips that make walking outside more fun for you and your dog:
Keep the leash loose whenever you can. You should be able to control your dog with commands, not by pulling.

Reward and give your dog praise for good behavior. A reward for staying still or coming next to you is a sign that your pet has done something well.

Dogs explore the world by smelling – give your pet time to enjoy its surroundings.
A carefully chosen leash, harness, and collar are a part of successful walks with your dog. Find high-quality leashes, harnesses, and collars, and enjoy spending time together outdoors. Rukka Pets has the right gear for your best friend, no matter the weather.